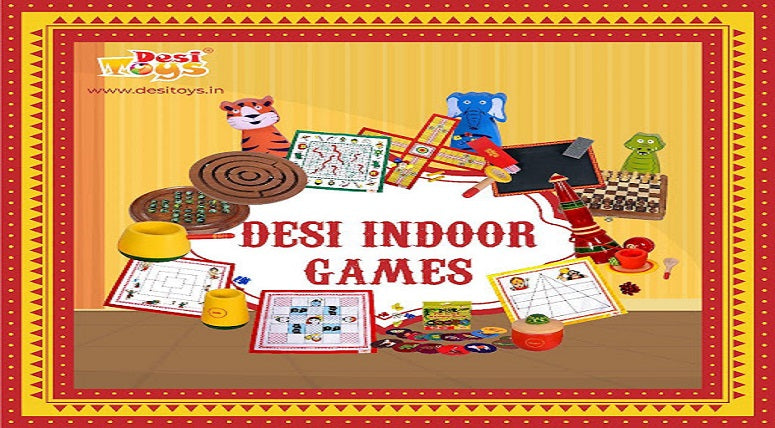 Jan 19 , 2023
Too cold to play outside? Don't let the cold breeze wipe away your child's playtime routine! Here is a list of amazing indoor games & toys from DesiToys that will make sure your kids don't miss out on any playtime good weather or not!
1) Pachisi
Yet another game makes a comeback for Gen Z with a mythological twist!
Connect your kids to their Indian roots through the epic story of Mahabharat while rolling the dice to win this exciting racing game. Order here
 2) Classic Board Game Series- Nine Men Morris: A comeback version of the traditional Nav Kankari game where players need to work on aligning 3 coins vertically or horizontally in the same colour. Your kids can enjoy the mythological theme in the game and play with it for hours of fun!  Get it here 
3) Goats & Tigers Board Game: Continue to introduce your child to the Mythology story of Goddess Kali and Mahishasura with this fun strategy board game. Let them be positively inspired by the moral of the story & develop their emotional intelligence and strategic thinking skills.
4) Jungle Memory Game: This card game is a fun way to help preschoolers develop memory and matching skills using the theme of Incredible India with brightly coloured pictures of animals and birds they need to match while making pairs. Shop here.
5) Spot n Snap Card Game: Another one from the card game series, where children are encouraged to apply their memory & visual recognition skills. A perfect family game –gender neutral & can be played by 5yrs to 99 yrs olds! Shop here
Desi Toys Pretend Playsets
The pretend playsets are our bestsellers –they help children develop independent learning skills and provide them with a platform to practice their imagination skills while playing! Check out our Wooden Tea Set made using superior quality Sheesham & designed using non-toxic paints. 
Well, if the tea set is not enough – check out the wooden kitchen set which comes with contains all the utensils from a traditional kitchen. This a great opportunity for role-playing for children, one of the most essential parts of childhood.
Don't forget to check out our Brass kitchen set that contains iconic utensils used traditionally in Royal Indian homes and palaces. No plastic, no toxic colours –this one is pure brass & makes for a great souvenir & collectable for your home.
Jungle Bowling Game: A wooden bowling indoor game with brightly painted pins inspired by the wildlife creatures that kids adore! Develops coordination skills & turn-taking skills in children. Perfect for a playdate or a birthday party gift too! Order here
Slate: You can't ignore this simple, screen-free tool which promises hours of learning and unlearning on this wooden slate. Fine mortar skills, drawing, writing – this one is a total value for money. Add to your online cart here.
Shop at DesiToys to help your child experience the pure joy of play with our Made India, wooden, no plastic, non-toxic, educational toys and games inspired by traditional India – the ones that you grew up playing with!
Shop from our collection of kids' toys and games at  www.desitoys.in