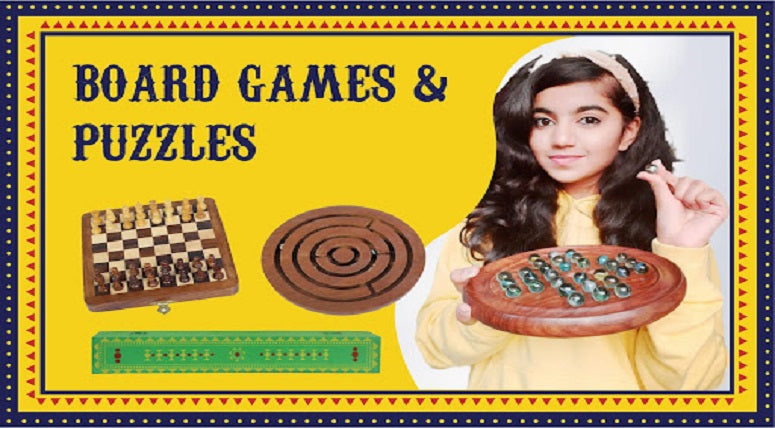 Feb 23 , 2022
Children are natural learners and as parents we want our children to develop a love for lifelong learning. The best way to foster this is to encourage their natural curiosity and that's where Puzzles and educational board games make a difference.
 The games and toys collection at Desi Toys boasts of  Made In India, educational toys that help develop life skills for kids.
Here are our favourite  educational games & toys from Desi Toys
Bada Bhul Bhulaiya/Labyrinth - Handcrafted in Sheesham wood, this is a challenging game that can be enjoyed by children as well as adults. Based on the simple concept of solving the maze- this game will draw your child's attention almost instantly and make them want to indulge in problem-solving happily. Shop here
Mancala / Pallanguzhi - Another ancient game from India makes a comeback with our handcrafted in wood Palanguzhi or Mancala. Great as a unique birthday party gift for kids. Order yours here.
Buddhijaal / Solitaire/ Brainvita - Encourage your child to accept challenges and develop critical thinking skills while finding their way through a game of Buddhijaal. Handcrafted in Sheesham, with the superior quality finish – this one looks good as a collectable too! Buy now!
Chess board game - This game from olden times is a lesson in strategic thinking and logical reasoning for children.
Ours is a special chess board as it comes with a magnetic board – so feel free to take breaks in between as the pieces remain intact. Perfect to carry in your travel bag with kids. Shop here.
Not just puzzles and board games – Desi Toys offers a wide range of toys and games from other categories like pretend to play toys like the Kitchen Playset, outdoor games like Lagori, Gili Danda, indoor games like Hopscotch, Cup & Gola and more!
Shop for the best toys and games for kids now at www.desitoys.in
Happy Shopping!