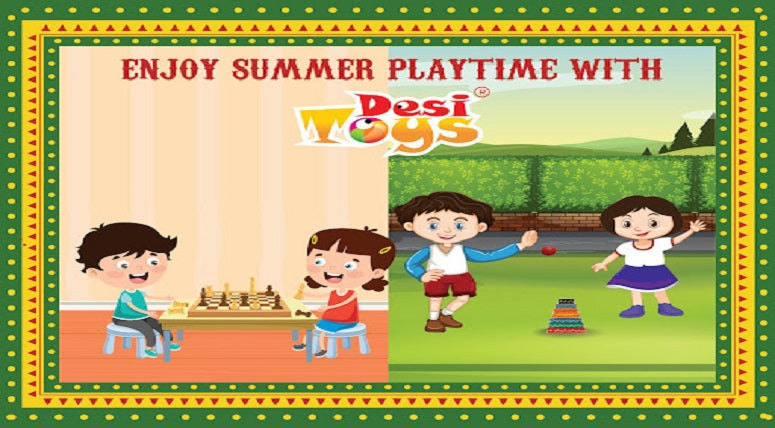 May 22 , 2023
Ask any parent for their favourite childhood memory and summer vacation would be on top of their mind. Well for every 90's kid, playing board games indoors like Pachisi/Choupad on the floor with tamarind seeds; plucking mangoes using the catapult or pretending to play ghar ghar with the miniature kitchen set with your friends or cousins are some of the best moments from your summer holidays as a kid.
Missing those childhood days? What if we told you that you could relive those days with your children too? It's true! Our comeback version of games and toys is inspired by some of the oldest games passed down from one generation to another by Indian families.
Take a walk down memory lane with us – here is a list of 5 games and toys that will cheerfully rewind those nostalgic play memories of summer vacations!
Khel Paani – Whichever part of India you would have spent your childhood in, the kitchen set has always been a part of your playtime. Handmade using superior quality Sheesham, this kitchen set offers ample opportunities for role-playing and helps them develop their social skills. Check out our other versions of Kitchen sets too – such as the wooden Tea Set, Brass Miniature pretend play kitchen set. Browse here
5 stones : Surprised to see this here? We bet you've played this simple game as a kid during those hot summer days indoors.  At Desi Toys we've used natural materials to design this game using triangle-shaped pieces made of cloth filled with fur and grains. A simple must-have in your kids' game collection – shop for it here
Gulel : Another one from our bag of nostalgic toys! This wooden slingshot comes with foam balls that can be used by kids to practice their aiming & concentration skills – a much-needed skill for today's online learners. Shop now
Spinning top: It is amazing how this simple, screen-free toy has never failed to entertain generations. Order this from Desi Toys and transform those boring summer afternoons into those that are filled with joy and laughter. Get this here
Steamboat / Putt Putt Naav: This STEM toy will make those young minds curious & help them generate science inquiries, while they watch in wonder trying to figure out how the Putt Putt Naav propels ahead. Order here.
We know summer vacations are also about playing board games with friends & family – check out our Top 7 Classic & Iconic Indian Board Games that also help connect your children to Indian Mythology.
At Desi Toys every game and toy is handcrafted by artisans, Made in India, using sustainable materials & non-toxic paints which makes our collection child friendly & child-safe. Most importantly, these toys and games aim to bring back the joy of pure play & childhood memories – the ones you cherished as a child!
Shop for these gems at www.desitoys.in