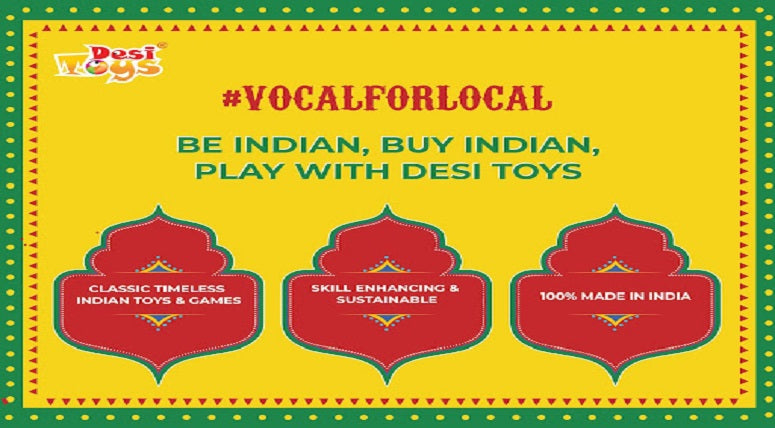 Sep 16 , 2022
Recent reports from the toys industry tell us that the demand for traditional Indian toys has grown up in India as well; This is good news not just for us as a toy maker, but also for the new-age parenting community as well as our little users– the children of India
Here is why 'Made in India" toys are gaining popularity over their Chinese counterparts:
Made In India toys such as the ones offered by Desi toys are designed keeping in mind the Nostalgia factor.  Our games like Lattu / Spinning top            https://www.desitoys.in/search?q=lattu,  5 Stones, and Lagori are the ones that a lot of us have grown up playing & the thought of our children enjoying the same childhood experience as ours appeals in a big way!
2)  Made In India toys at Desi Toys are mostly comeback versions or  game concepts inspired from traditional India – such as Chess, and Buddhijaal that have defined childhood for generations!
3) Made-in-India toys promote simple, natural,  free play an important essence of play which is missing from gadget-heavy, screen-based toys. Check out our bestsellers like Brainvita,  Kitchen playsets that guarantee hours of engaged playtime with zero screen time.
4) Made-in-India toys at Desi Toys are crafted in superior quality Sheesham wood & painted in bright non-toxic colours which are safe for children as well as for the environment. Something that every environmentally conscious parent in today's world will highly appreciate. Check out our collection here.
5)  By making toys in India we are helping create jobs for local artists & introducing today's generation to the rich cultural heritage of India helping them learn more about it through play!
New to Desi Toys?  Inspired to gift your child a toy that is truly Made in India? Head over to www.desitoysin right away!