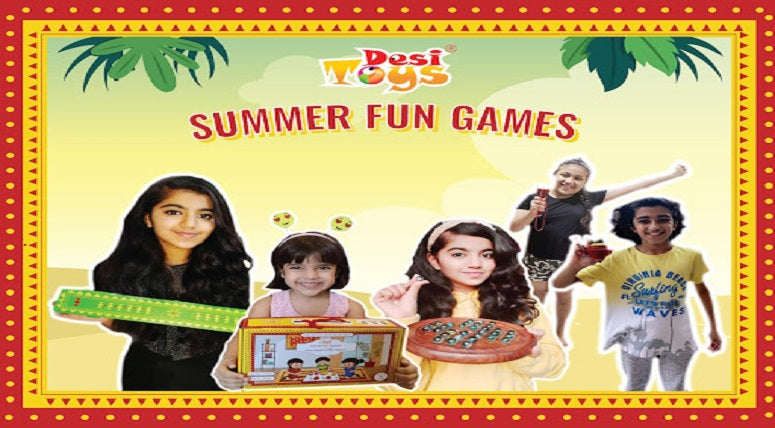 May 24 , 2022
Play is the first word that comes to our mind when we think of summer vacation. Unlike previous years, this summer has been extremely harsh with heatwave conditions across India, thus dampening all the plans for outdoor play until sunset.
At Desi Toys we believe that children learn the most while playing and nothing should come in between their playtime plans –not even a hot summer!
Here are 5 cool summer games that a perfect for some indoor fun!
1) Explore Incredible India with Spot N Snap
A card game where players need to math the icons according to their categories while keeping a sharp eye & great speed to win the game! A perfect indoor game to be enjoyed with the play date gang!
Skills acquired #LearningthroughPlay- Develop concentration & boost visual recognition skills.
2) Indulge in fun Role play with Desi Toys Wooden Tea Set
Parents who bought this have shared how their children enjoy endless hours of endless, unsupervised play through this simple gender neutral playset containing 11 pieces of pretend play utensils such as Cups, saucers, spoons, and tea strainer, milk pot,  tea and sugar jars. All the things you need to host a perfect tea party for your besties!
Skills acquired #LearningthroughPlay- Develops imagination, object recognition, independent play & social skills.
3) Toss it up with Desi Toys Cup & Ball
A game that can be played both individually as well as in a team. It takes a bit of practice to toss the ball and capture it back in the cup, once mastered it can become a game to de-stress – without using any gadget or screen. We call this pure playtime!
Skills acquired #LearningthroughPlay- Develop hand-eye coordination & focus.
4) Aim high with the Catapult 
Surprised to see this toy make it to the list? Well, our version of the traditional gulel comes with a pack of foam balls to aim a tower of paper cups from a distance.
Skills acquired #LearningthroughPlay – STEM skills, focus, aiming skills.
Remember this game from your childhood? Trust us to find all the traditional Indian toys and games to make a comeback to ensure your child enjoys the joys of pure play just as you did!
Children can play this simple yet challenging game of tossing the small objects and catching them simultaneously. It can be played alone and with friends, however, most enjoyed with grandparents – this is a game from their era!
Skills acquired #LearningthroughPlay – Concentration, hand-eye coordination, critical thinking and social skills
All the games at Desi Toys are handcrafted by local artisans made using sustainable materials with the aim of reviving classic Indian toys/games. We are a homegrown, women-led 100% Made in India brand contributing to 'Atmanirbhar Bharat' with Indian cultural roots.
Bring home your favourite toys and games from Desi Toys & make it a summer to remember! Shop at our online store www.desitoys.in