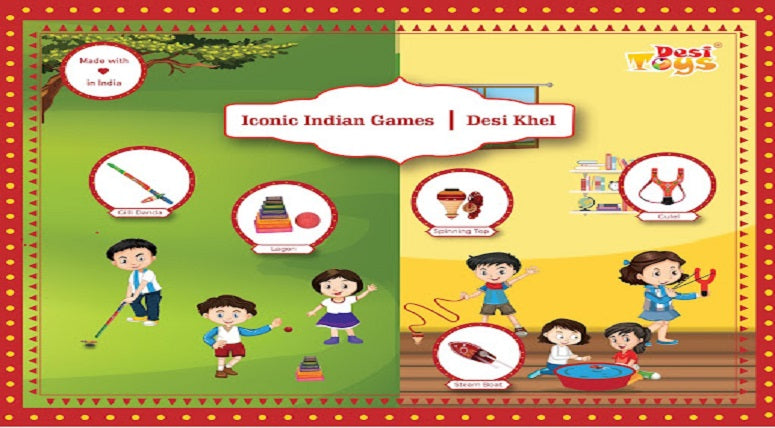 Jan 20 , 2022
Looking for ways to entertain your kids? One that does not involve screens or gadgets?  Head to www.desitoys.in to discover a wide range of toys and games for children that don't just entertain but also help them develop essential life skills while playing.
Here is a  round-up of some of the most popular games and toys from across all categories from our online store:
1)  Board games & puzzles: Desi Toys offers some of the best board games and puzzles for children and adults. These classic and popular indoor Board Games & Puzzles helps in enhancing strategy skills, problem-solving skills and social skills.
Bestseller board games & puzzles:  Chess, Solitaire
2)   Fun activity toys: Handcrafted by local artisans, Made in India, fun toys and games that promise hours of entertainment to kids as well as adults.
Bestseller fun activity toys: Steamboat, spinning tops, Gulel, Buddhijaal & more!
3)   Kitchen Pretend Playset: Inspired by the traditional and modern kitchen, our superior quality kitchen sets fire up children's imagination.
Bestseller kitchen sets: Brass kitchen Set,  Indian Tea Playset, Cooking set/ Khel Paani . Shop online here
4)  Truly nostalgic Desi Toys: As the name suggests, Desi Toys is inspired by games and toys from traditional India & offers many comeback toys that parents in the 90's growing up playing with.
Bestseller nostalgic toys: Lagori, Gilli Danda,  Gulel, 5 stones game. Add to your shopping cart here
5) Return gifts & collectibles: Unique play concepts, designed with  superior  quality and available at affordable rates –our games and toys are the go-to gifting options for birthday parties and return favours.
Bestseller return gifts & collectibles: Handcrafted Pencils, Jungle Memory Game & more! 
Take a trip down memory lane & explore more options for indoor toys and games for kids. Shop online now www.desitoys.in