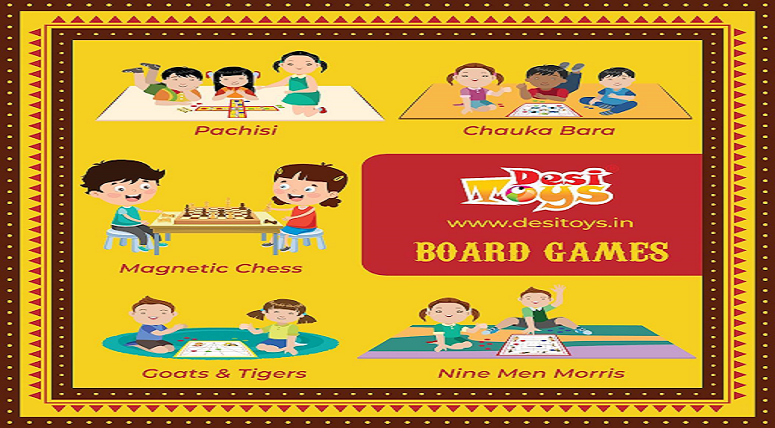 Sep 11 , 2023
As parents we are sure will agree that board games are one of the best ways to spend quality time with your kids. Indian games for kids are also one of the most gifted items on birthdays, festivals and return gifts. Well, if your kids enjoy playing board games and if you are looking for something new – you need to see our board games section.
Unlike other board games in the market, our games are inspired by board games that were played in ancient India, the ones that are passed down from one generation to another, the ones that connect your kids to their Indian roots
Here are our bestseller Indian board games for kids:
1) Epic Indian Stories & Game -Mahabharata Special - Connect your kids to the epic story of  Mahabharat & its legendary characters through this classic combination of 'Pachisi' strategy board game from 'Desi Toys' which comes with a series of 6 amazing story books from 'Amar Chitra Katha' connecting today's youth to Indian roots. A game that helps children develop their strategy skills, social skills & problem solving skills while playing.
2) Combo Pack Of 5 Canvas Fabric Board Games – The fabulous five board games in this pack are inspired by stories from Indian Mythology such as
Snakes & Ladder – based on 10 awesome stories of Vishnu avatar/incarnation called Dashavatar.

Nine Men Morris – A strategy game based on stories of Bal Ganesha and Gaj Mukhasur.

Chauka Bara – An ancient racing game inspired by the legend of Ramayana
Pachisi – also known as Chaupar, based on the story of Mahabharat
Maa Kali Goats & Tigers – Inspired by the mythological

story of Goddess Kali and Mahishasura, this strategy board game involves hunting the opponents and blocking their moves making them immobile.
3) Chess: Handcrafted in sheesham wood, this timeless board game of Shatranj, comes in a travel-friendly version from Desi Toys, designed with a magnetic chessboard such that the pieces always remain intact unless you decide to move them! Shop here
4) Mancala: Another iconic turn-based wooden board game believed to be one of the oldest known two-player board games in the world, helps in developing mathematical, logical, social and strategy skills amongst players.
5) Brainvita : Also known as Buddhijaal/ Solitaire, this handcrafted game is always fun and challenging not just for kids but for adults too! Helps in developing concentration, hand-eye coordination, critical thinking skills & problem solving skills in children. Shop now
Handcrafted by Indian Artisans, using sustainable materials- Desi Toys board games aim to revive the classic Indian toys/games, thereby,  backing an indigenous toy brand with Indian cultural roots, 100% Made in India contributing to 'Atmanirbhar Bharat'.
Do you want to online toys shopping in India, Visit Desitoys.in for our collections of meaningful toys.
Happy Shopping!