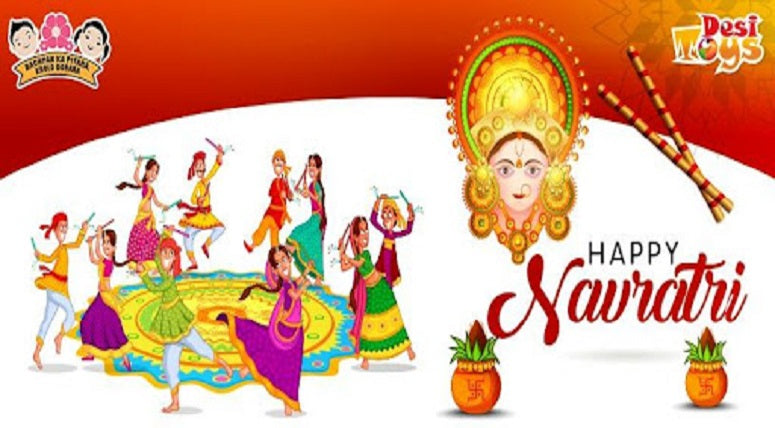 Oct 14 , 2023
As the year draws to a close, we have another eventful festival – Navratri! 
During this time, people unite in worshipping Goddess Durga through dancing to traditional songs and exchanging presents for love and success. This Navratri let us shift from common gifts to toy-wooden ware and kitchenware!
This post highlights how the special presents contribute towards the aesthetically beautiful and meaningful nature of Navratri. Let's embark on a journey that will unveil the enchantment of holiday presents.
Embracing Tradition with a Twist
Navratri is a nine-day Hindu festival dedicated to Goddess Durga. Good triumphs over evil, for instance, while light prevails over darkness. During these days, various ceremonies are performed, such as fasts, rituals, and Garba and Dandiya dances.
Why Consider Gifting during Navratri?
Gifting during Navratri holds a special significance. It's an expression of love and goodwill towards our friends and family, a way to convey our best wishes for their prosperity and success. But this Navratri, let's think beyond the usual gifts and embrace something truly exceptional that adds depth and meaning to the celebration.
Wooden Wonders: Igniting Creativity and Tradition
In fact, wood has been used in making children's toys in India since time immemorial. Their enigma and nostalgia take us to times of innocence. Indian wooden toys are made by hand, such as dolls, animals, and puzzle pieces. These presents are not merely eco-friendly, but they spur up children's imagination as well.
1) Nurturing Creativity
Urge the little ones to discover their creativity with wooden playthings. These toys do not only entertain but also instigate storytelling, problem-solving as well and fine motor skill development. Wooden toys come as a breath of fresh air in a screened world.
2)  A Token of Tradition
Wooden toys during Navratri- you aren't just promoting creativity but celebrating the incredible cultural heritage of India! These are handmade toys that are a sign of a tradition kept alive by several generations.
Nurturing Tradition and Togetherness:
Families get together during Navratri to cook special foods as offerings for the Goddess Durga. Wooden kitchen sets provide an opportunity to include the little ones in such rituals, thus educating the importance of tradition and togetherness at an early age.
1) Gift of Nurturing Skills
Wooden Kitchen sets for cooking can be given as a unique present during Navaratras. Such sets offer countless hours of imaginative play as well as providing invaluable life competencies such as cooking, teamwork, and creativity.
2) Kanya Pujan Tradition
Kanya Pujan involves the beautiful ritual in which the young girls in certain regions are considered the embodiment of Goddess Durga during the occasion of NAVRATRI. Wooden kitchen sets can be a thoughtful and educational gift for these young girls, encouraging them to learn and explore the art of cooking.
Conclusion - Gifting with Purpose
As we approach Navratri, let's transform our gifting tradition. Embrace the beauty of Indian wooden toys and kitchen sets, and let them become the ambassadors of creativity and culture. These gifts speak volumes about your thoughtfulness and reverence for tradition. Wooden kitchen sets for cooking are not mere gifts; they are a reflection of love, creativity, and tradition.
Let's Make This Navratri Really Special. Welcome to Desi Toy's range of beautifully handcrafted Indian wooden toys and kitchen sets. Come and preserve and celebrate our rich cultural heritage with us through this one–of–a–kind gifts.
Click below to discover our collection and make this Navratri unforgettable: https://www.desitoys.in/collections/kitchen-pretend-play-set
We are very proud of our work at 'Desi Toys' where we resurrect the past. We are a company whose mission is to bring to young minds, both old and new, the enchanting traditional toys and games of their ancestors. These are the keepsakes we re-envision, revamped but still carrying old-fashioned appeal.
Remember, it's not just about what you give; it's about the joy you share.
Happy Navratri!