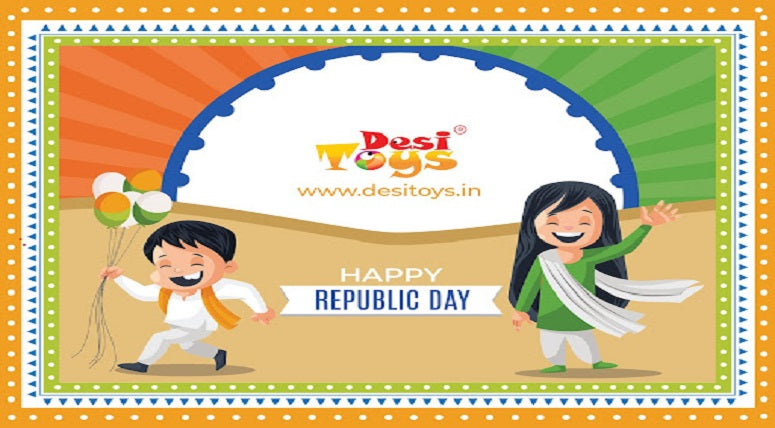 Jan 20 , 2023
When it comes to learning for children – learning through play tops the charts! 
So here is our recommendation, while you are home enjoying the national holiday this Republic Day –play with them one of the traditional games which you grew up playing! Why traditional games? Because these games will help your child learn and appreciate  India's rich heritage & culture. A great idea isn't it?
 Now if you are wondering which games to play?  Thank us later, here is a ready reckoner of India's 5 most ancient games from the house of Desi Toys 
1) Shatranj/ Chess - The origin of chess can be traced back to the 6th century in India. We at Desi Toys have a comeback version of this classic, brain-boosting game in a foldable magnetic chess board version! The freedom to play this game without any worry about the pieces shifting from their place is bliss for the players! Try it –order it here.
2) Spinning Top:  You can never go wrong with this amazing timeless wooden spinning top that has continued to provide entertainment to children across age –groups. Order here.
3) Bada Bhool Bhulaiya: An intriguing puzzle game inspired by traditional Indian games is available in our stores in a handcrafted Sheesham wood version. Totally addictive, this one is a sure collectable too! Shop here.
4) Chaupar/ Pacchissi: A comeback strategy game from olden times – bring home this Mahabharat epic story themed 'Pachisi' strategy board game from 'Desi Toys' along with a series of 6 amazing story books from 'Amar Chitra Katha' connecting today's youth to Indian roots. Sounds exciting? Buy it here.
5) Lagori: Yes ! This awesome outdoor team game from our childhood times is on our shelves too! Call it Sitoliya, Saath Patthar or Seven Stones – it's a lot of running and chasing fun guaranteed with Desi Toys – click here to learn more.
Order these games online for yor kids from www.desitoys.com & invest some good quality time in having meaningful  conversations with your child about the rich heritage & culture of India and the importance of supporting ' Made In India ' 
Happy Republic Day! Jai Hind!