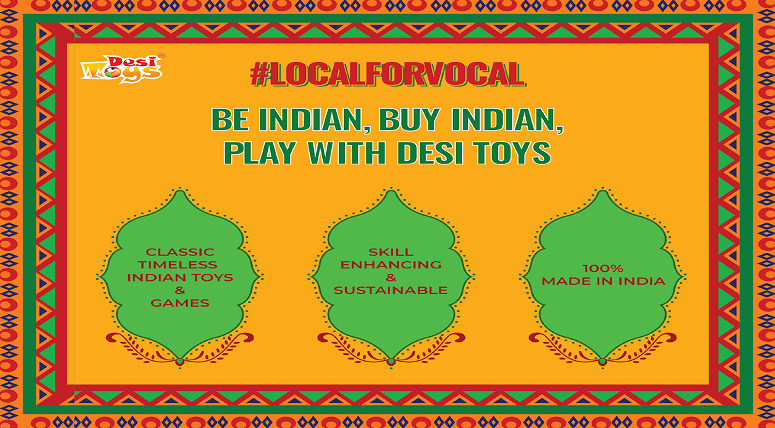 May 12 , 2021
There's no doubt about it: trying to juggle working from home with children is challenging. And with the rollback of lockdowns, you can never have enough options to engage your children indoors, especially the ones that don't involve screen time.
Desi Toys offers a wide range of skill enhancing toys and games that guarantee unlimited indoor fun, not just for children but for parents too!
Shop for wooden Indian traditional indoor toys and games that are Made in India- only at www.desitoys.in
Here are some to add to your online shopping list right away!
5 Stones: A traditional Indian game that screams 'Screen Free Fun!'
A simple game that you can play alone or with your family & friends. The object of the game is to complete a series of moves without dropping any of the stones.  A perfect way for children to develop their focus and hand-eye coordination skills. At Desi toys, we are providing 5 lovely triangle-shaped pieces made of cloth filled with fur and grains. Shop here
Solitaire game
Here is the best part about this game, it can be  played by a single player. A classic mind-challenging game, handcrafted in wood that makes for a unique collectible too.Through this game children develop problem-solving and logical thinking skills and learn decision making skills at an early age. Order here
Ramayana Chauka Bara
What better way to introduce your children to the epic story  of Ramayan than playing this game of Ramayan inspired Chauka Bara! This fabric made board  game  by Desi Toys covers 5 Ramayan characters i.e. Rama, Sita, Lakshmana, Hanuman, and Jambavantha that is sure to make your little ones curious about Indian mythology. Place your order here
Brass Kitchen set &  Wooden kitchen set
Cooking has emerged as one of the most entertaining activities during the pandemic. Here is a mini kitchen set for your little master chefs too! This set contains brass utensils seen & used in the traditional Royal families with the gas stove, Idli steamer set, food plate with bowls and spoons, and more! We also have a  beautifully handcrafted wooden cooking playset in our collection. Whichever you choose, children are sure to enjoy hours of role-play fun at home! Get it here
Hopscotch
Tired of sitting at home? Going outside is a strict no, outdoor activity is less. How about a game of hopscotch?  A game that gets your children hopping and moving indoors! Inspired by a popular game in which players toss a small object into a numbered pattern of boxes outlined on the mat and then hop or jump through the spaces and retrieve the object. This one at Desi Toys comes with an anti-slip bottom & cute animal print – works as a kids' room décor too! Click here to order
Head to www.desitoys.in today! You can browse age-wise, category wise and even take advantage of the #StayAtHome Sale
Happy Shopping!