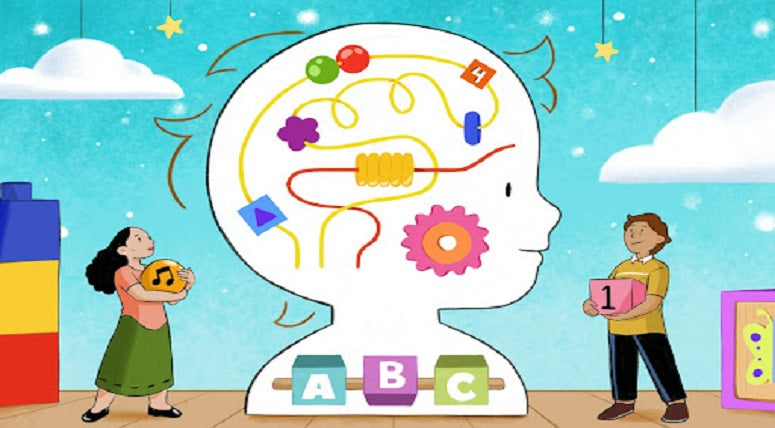 Feb 16 , 2023
Looking for ways to help your child's brain power? Introduce them to Indian Toys & Games- along with unlimited fun these toys being educational in nature offer immense opportunities for disguised learning.
Featured below are our 'Brain boosting' Toys & Games from our collection:
1) Buddhijaal / Brainvita Marble Game/ Solitaire Game Board:
True to its name, Brainvita helps in brain development, and & eye coordination & provides your child with the opportunity to enjoy individual, independent playtime! One needs to get rid of all but one marble on the board, so there is a lot of problem-solving that takes place while playing this game. Shop for our wooden Buddhijaal / Brainvita game board here.
2) Chess: Any list of brain development toys would be incomplete without the mention of Chess!  The history of chess originated in northwestern India around 550 CE, The earliest precursor of modern chess is a game called chaturanga. This Indian-origin game is perfect for mastering cognitive skills like concentration, decision-making, increasing attention span, memory capacity & self-worth. Shop for our Wooden Chess folding box here
3) Mahabharat Pachisi/Chaupar – Also known as the Indian Ludo has been around since the Iron Age (1500-600 BC) and also finds mention in the great Indian epic of Mahabharata. Ours is a unique sustainable version as it comes in a canvas cloth base and can be played by two to four players – perfect for developing strategy skills, and logical reasoning skills for children. Shop here.
4) Wooden Mancala Board Game / Pallanguzhi / Ali Guli Mane: Believe it when we say this we have the world's oldest known two-player board games in the world in our collection! Yes! Mancala is yet another brain-boosting game that will keep your kids happily engaged trying to capture more seeds than the opponent –a challenge which will make them think harder, wiser & smarter!
5) Bada Bhool Bhulaiya/ Swirl/ Labyrinth Board Game Wooden Puzzle : Solving puzzles is the best brain stimulation tool for kids!  This  ball-in-a-maze puzzle requires the player to manipulate the balls in order to move them towards a goal. Shop here.
Order these games online from our website www.desitoys.in . Handmade by local artisans, using superior quality sustainable materials, and non-toxic paint –our Indian-inspired games and toys are rated high on boosting the smart quotient for kids. Try them today!