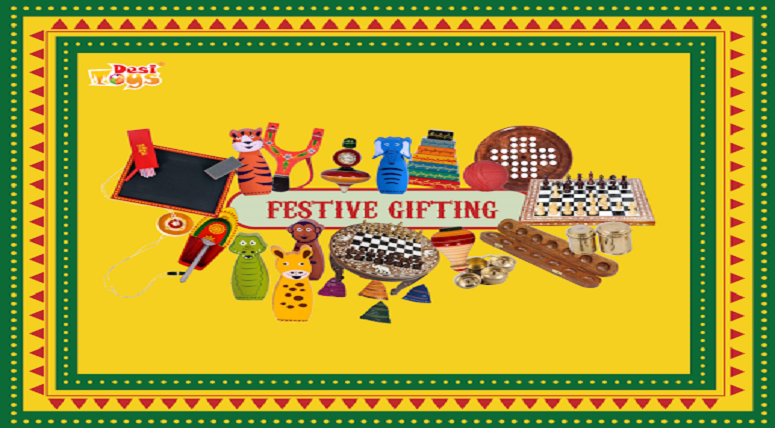 Oct 17 , 2023
In this digital age, the internet has revolutionized the way we shop, including for toys. Whether you're searching for the latest gadgets or traditional Desi toys, the online toy store offers a vast universe of options. However, with the sheer magnitude of choices, finding the best deals can be overwhelming. So, let's embark on a journey through the online toys universe and uncover some valuable tips for securing the finest deals.
1. Know Your Desi Toys:
Before you start browsing the online toy store, familiarize yourself with the kind of toys you're looking for. Desi toys, with their unique cultural significance, have gained popularity in recent years. From colorful Spinning toys to intricate brass miniature kitchen playsets, understanding their significance and the materials they are made from will help you in your search.
2. Start with Reputable Retailers:
Begin your online toy store adventure by exploring established and reputable retailers. Websites like Amazon, Firstcry, and dedicated toy stores often have a wide selection and competitive pricing. These platforms usually have user reviews and ratings, giving you insight into the quality of products and the seller's credibility.
3. Price Comparison:
Price comparison is a powerful tool in your quest for the best deals. Use websites and apps that aggregate prices from various sellers to find the most competitive rates for your desired toys. This way, you can make an informed decision and potentially save a significant amount.
4. Sign Up for Newsletters:
Many online toy stores like www.desitoys.in offer exclusive deals to their newsletter subscribers. Signing up for newsletters can provide you with access to special discounts, promotional codes, and early notifications about upcoming sales. Keep your inbox clutter-free by creating a separate email address for these subscriptions.
5. Follow Social Media and Review Websites:
Stay connected with your favourite online toy stores on social media platforms. Many retailers share flash deals and promotions exclusively through their social channels. Additionally, you can check out toy review websites and YouTube channels to discover the latest toys and any ongoing discounts.
6. Loyalty Programs and Rewards:
Some online toy stores offer loyalty programs that provide points, discounts, or free shipping for frequent customers. Consider joining these programs if you are a dedicated toy shopper. Accumulating points can lead to substantial savings over time.
7. Use Cashback and Coupon Websites:
Cashback websites can be incredibly helpful in finding the best deals. These platforms offer cashback on your purchases or provide coupon codes for additional discounts when shopping at specific online toy stores.
8. Take Advantage of Seasonal Sales:
Online toy stores often host seasonal sales during festivals special occasions and holiday clearance events. Mark your calendar for these opportunities to grab toys at significantly reduced prices. Planning your purchases around these events can result in substantial savings.
9. Read Customer Reviews:
Customer reviews are a treasure trove of information. Read reviews to learn more about the product's quality, durability, and if it meets your expectations. This can help you make an informed decision and avoid disappointment.
10. Consider Shipping Costs:
Don't forget to factor in shipping costs when comparing prices. Sometimes, what appears to be a fantastic deal can turn out to be less attractive when high shipping fees are added. Look for online toy stores with free or discounted shipping options.
In conclusion, the online toys universe is a vast and diverse space that caters to all kinds of preferences, including Desi toys. Finding the best deals requires a combination of research, savvy shopping, and patience. By following these tips, you'll navigate this universe with confidence, ensuring that you find the toys you desire at the most affordable prices. Happy toy hunting!