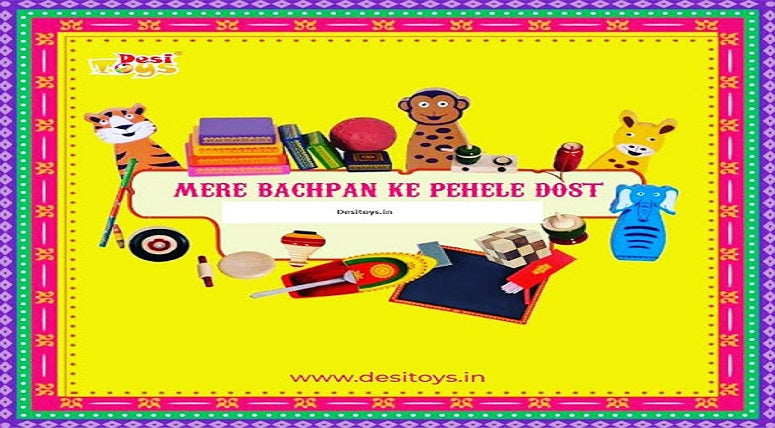 Mar 17 , 2023
Playtime is not just about taking a break or filling in time between studying, it is one of the most productive activities a growing child can partake in and is essential for a child's overall growth. Playing with games and toys contribute to a child's life much more than being entertaining, they teach a child many skills that they might not come across otherwise at an early age. At each stage of a kid's life, there are different things that interest them and different toys and games that they should indulge in that beneficial for their age. We, at Desi Toys, offer an extensive range of games and toys with great entertainment factor as well as educational factor; our Indian games for kids contribute to a child's overall development by teaching them skills that are necessary for a functional life and beyond!
Our games and toys are not just for children but also adults who can have a leisurely or competitive time by indulging in some good old fashioned indoor games!
Ages 3 to 5
Children from 3 to 5 years of age are very tender and should not be given heavy toys to play with or games that are too complicated. In this age, Desi Toys offers toys and games that are fun, light and easy to play with. Our toys sale online will allow you to buy the best toys for your kids to learn from and enjoy with. Following the toys that are great for children of this age along with the benefits they provide:
Wooden slate for kids

: fine motor skills, creativity, imagination

Jungle bowling game set

: concentration, hand-eye coordination, visual recognition

The Jungle memory card game

: hand-eye coordination, social skills, concentration, memory

and visual recognition

Hopscotch game play mat

: social skills, physical movement, concentration, body-coordination

Wooden Indian tea kitchen set

: role play, social skills, imagination, object recognition

Khel Pani/Wooden cooking set: role play, social skills, imagination, object recognition
Ages 5 to 99
This sure is a wide age range but the games and toys are such that, both, children and adults can benefit from them. Gulel/Catapult, Lattu/Spinning Top and Cup aur Gola/Cup & Ball are some toys that are enjoyed pan-age due to its endless entertainment effect. Having been originated in India as Chaturanga/Chaturaji, Chess is one of the top Indian games for kids and adults as it teaches strategy building, problem solving, concentration and social skills. The plethora of board games that we, at Desi Toys, offer can entertain and be beneficial for the entire family that can play together!
Shop Now: https://www.desitoys.in/