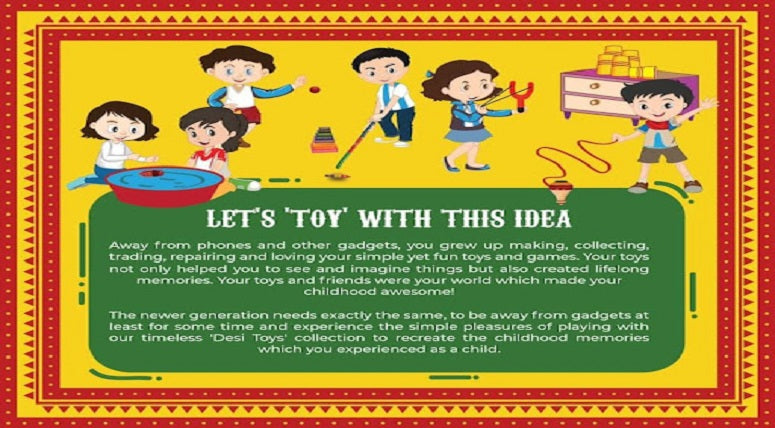 Jan 14 , 2022
It's that time of year when we're confined to our houses and only out for essential requirements. It is due to two factors: first, the lethal disease, which may strike anybody, anywhere, and second, the winters. On the plus side, there is no better time than now to have fun with family members, particularly children, as this is normally not feasible when you go to work.
To buy made in India toys online, there are several stores from where you can purchase made-in-India toys. To buy kids toys India the best store is undoubtedly Desi Toys. Almost everything can be played by children. You'll remember when you bring the youngster something amazing and all he or she wants to do is play with the box the toy came in. As parents, though, we must look for toys that are age-appropriate, engaging, safe, and fun.
When you buy made in India toys online for kids you need to make sure the toys you buy are friendly and also assist kids in developing skills. We've also encountered the situation when our child plays with a toy for two days and then forget about it. Toy animals and figures, plush animals, trains and buses, dollhouses, dolls, and musical instruments are all examples of toys that may be appreciated at different developmental levels. A toddler will use them to build a zoo, while an older youngster will use them to execute a puppet show.
One of the most useful learning tools is a toy. Any activity a youngster likes will teach him all he needs to know. Kids Toys India that inspire a child's imagination while also supporting them in figuring out a difficulty and becoming tenacious problem solvers should be considered. Puzzles, shape sorters, nesting cups or eggs, binding toys, construction sets, play dough, crayons, colors, and simple board games for counting or matching will all help with fine motor skills and reasoning development.
We're sure everyone understands that their toddlers have boundless physical activity. So buy toys that allow your child to gain new physical abilities while simultaneously teaching them how to use the ones they already have. Build exciting obstacle courses with balls, tricycles, pull-along toys, pushing toys like toy prams or toy wagons, bowling sets, gardening sets, crawl-in and crawl-out shelters, toys sports sets, and floor mats.
There are a number of online toy stores that may assist you in finding acceptable toys for your children. Desitoys.in is an online toy store where you can get a wide variety of Indian games for kids to play while also helping them develop.